Balanças Marques weighing software adapted to the new SOLAS regulations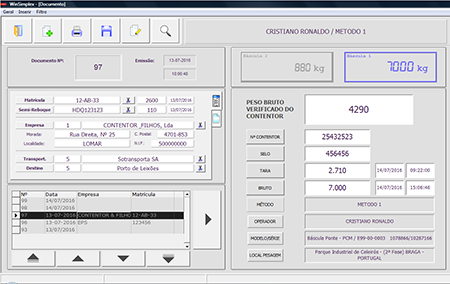 In July 1st, the new regulations imposed by SOLAS Convention to the container weighing were applied. One of the most important changes concerns the shipping document, that has now, as an obligation, to go along with the container, obeying to very specific rules.
Of the two certificate weighing methods possible to use, the Method 1, the most widely used, consists on the weighing of the closed and sealed container. Accordingly to the new regulations, the presentation of the shipping document is now mandatory, where an authorized person by the shipper attests the verified gross container weight.
Intending to answer to this new demand, Balanças Marques launched a new version of its weighing software WinSimplex, specially adapted to the requirements established by the SOLAS Convention.
This way, with WinSimplex is reassured the fulfillment of all obligations since it is a trustable software, connected to a weighbridge Marques of internationally recognized quality, and that complies with all metrology verification standards.
WinSimplex emits the needed document to legally attest the verified gross container weight, with all necessary information like the gross weight and the container identification code, stamp number, the method used and the name of the responsible, besides the date, address of the container weighing place and semi-trailer or truck registration.
This trustable "duo" allows to determine with precision the verified gross container weight, being the best solution to the requirements of SOLAS Convention.